(Imported from my old blog. Check out the date.)
P-Gie in her SuperModel-ish Poses.
Name : Ma. Patay Gutom N. Flowerhorn
Nickname : P-Gie
Birthday : Sept. 7.
Age : 3
Height : 1 foot
Hobbies : Magbato(playing stones), magdabog/magwala/makipag-away(running amok este, swimming amok pala), maglumamon(eat rapaciously), playing with my nanny, swimming endlessly
Talents : Swimming. Dancing. Eating. Eating. Eating. Eating. Eating. And not to mention, Eating.
Assets : My eyes. I can change them into multiple colors. But by default, they're red. And of course, my birth tattoo across my gorgeous, voluptuous body.
Describe yourself : Cute, smart, basagulera, mahadera, maldita, mataray, lamonera, moody, mainitin-ulo, madaming tricks. Machika, matatakutin sa ghosts.
Nanny : Ayi
Describe your Nanny : uber-cute. uber-bait. uber-intelligent. uber-talented. uber-lalakero.. hehe…
Who is your Nanny's husband? You mean, husbandsssssssssssssssss? Too Many to mention. This space could never ever be enough.
Do you think your nanny loves you? Yes.
Why do you think so? Because she used to overfeed me. She pampers me like a baby. Kulang na lang ihele ako. She used to sing me weird songs and baby-talk me to the extent of making herself look like a freaking fool.
Who is/are your Crush(es)? Lee Dong Wook of My Girl and Trent Ford of How to Deal.
Ever been in Love/ in a Relationship? Never. Strict and nanny ko eh.
What is Love? Love is nakakagutom.
Dreams/Ambitions : No dreams. No ambitions. Just want to live wet and wild.
Most unforgettable moments: There was one time when I tried to get adventurous, I ate a cockroach!!!! Would u believe that? And last valentine's day, I formed a heart shape using my stones inside my aquarium to greet my nanny a Happy Heart's Day.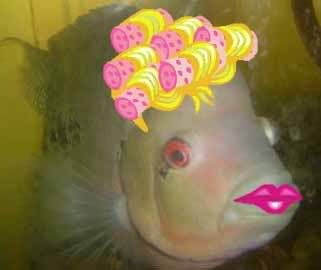 Fishing for Compliment.